thyssenkrupp Marine Systems has acquired SPMT axle lines from Scheuerle in order to efficiently handle the in-house transportation of boat sections. The purchase was preceded by a detailed market analysis of self-propelled transport modules providers for transporting high payloads. The self-propelled SPMTs from Scheuerle are versatile, high-performance transport solutions for the most difficult of assignments. Due to their modular structure along with diverse mechanical and electronic combination options, payloads are theoretically unlimited. Transports with unit weights over 17,000 tonnes have already been realised.
The marine division of the steel corporation uses the two six-axle SPMT transport modules to move mainly large-volume GRP components, each weighing around four tonnes, as well as large components of varying weights on the factory premises. The heaviest, prefabricated ship sections weighing up to 250 tonnes are transported on up to ten SPMT SL axle lines for further processing. For this, they are moved using different transport racks such as the so-called "cradles", heavy pallet carriers or jumbo pallets.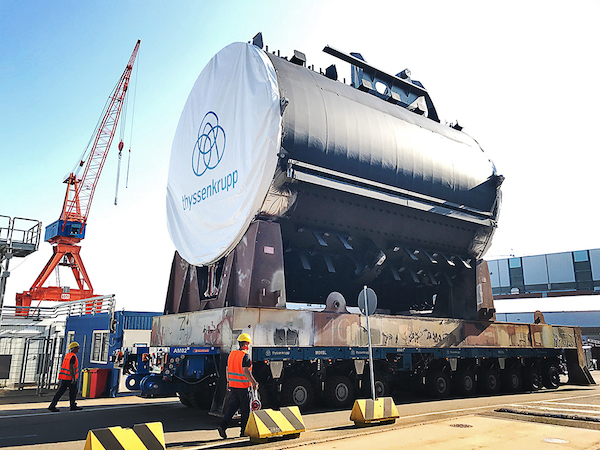 thyssenkrupp Marine Systems has already purchased SPMT and SPMT SL (Split Type) modules from Scheuerle. The SL version can be widened in order to suit requirements for transporting ship sections among other things. Z180 PPU (Power Pack Units) generate the drive power for the self-propelled transport modules. For the future, the company plans to acquire additional SPMT axle lines and PPUs from Scheuerle.