Abidjan Terminal, the operator of the container terminal at the Port of Abidjan, has taken delivery of two fully electric APM 75T HE tractors as part of the "Green Terminal" environmental certification programme initiated by Bolloré Ports. These machines are the product of the synergy between the Bolloré Group, via Bolloré Ports and Blue Solutions, and the manufacturer Gaussin. This partnership between French companies has allowed the development of eco- responsible electric logistics solutions that are ideal for extreme environments (tropical and desert), where the heat affects sensitive components, particularly batteries. The APM HE is the first container transport solution that has been designed specifically for hot climates, thanks to its solid-state battery technology which is insensitive to variations in outdoor temperatures from -20°C to +60°C.
This fully electric HE model allows savings in operating costs, in terms of both maintenance and energy and it is noiseless with zero CO2 emissions. The new handling machines are powered by LMP battery that is designed and produced by Blue Solutions, a subsidiary of the Bolloré Group, in France. This is the first terminal in Africa to receive and use the new technology dedicated to container transport.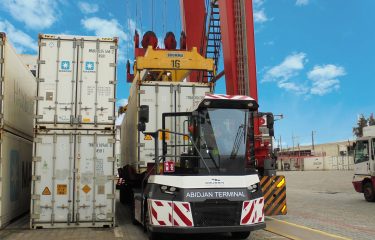 "Abidjan Terminal has taken account of sustainable development requirements through the use of electric equipment and the integration of mechanisms that preserve biodiversity, thus shrinking the carbon footprint of its business activities. The goal for Abidjan Terminal is to innovate and step up its energy transition consistent with the vision of the Bolloré Group, which, through its Blue Solutions subsidiary, provided Côte d'Ivoire with its first clean-mobility solutions in the shape of the electric buses of Cocody University," said Asta Rosa Cissé, Managing Director of Abidjan Terminal.