Built for the Royal Navy in the historic Portsmouth Dockyard over 100 years ago in 1915, Dorian, one of Dunkirk's little ships, has been in restoration in Southampton since 2011. Once the work was complete, the ship weighing 9.7 tonnes was lifted back into the sea by King Liftings Liebherr LTM1060-3.1 60 tonne crane using a Modulift CMOD 12 with slings all supplied by SafetyLiftinGear.
"It was great to work on a project that had played such an important part of history. Although the windy weather threw in extra challenges, the steadiness of the CMOD12 meant that the lift was still able to go ahead as planned," said about the operation Karl Chapple, Depot Manager from SafetyLiftinGear.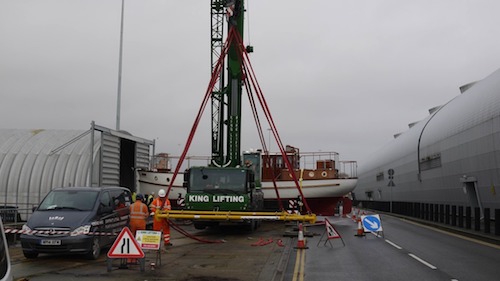 The CMOD 12 Spreader Frame can lift a maximum SWL of 16t and according to Modulfit, it is ideal for when there are height restrictions during a lift as the height of the rig will be lower than a '1 over 2' rig. "The CMOD Spreader Frame and the '1 over 2' rig achieve similar lifts; however, they are not direct substitutes of each other. The '1 over2' rig option is most economical if there is no height restriction, however the CMOD Spreader Frame proves efficient for low headroom lifts. The CMOD Spreader Frame is quicker to assemble due to less rigging than the '1 over 2' rig," explains Harshal Kulkarni, Engineering Manager at Modulift. The CMOD Spreader Frame range is available from the CMOD 6 up to the CMOD 250 which will lift up to 300t.