On the first day of Conexpo, Liebherr officially handed over the keys for 22 new LR 1300.1 SX crawler cranes to the American crane rental company, Bigge Crane and Rigging, which is headquartered in California.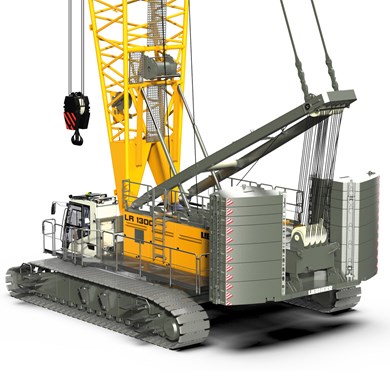 These are not the first LR 1300's from Liebherr that Bigge is adding to their fleet. Bigge was one of the earliest adopters of the 300 metric tonne class, LR 1300 crane from Liebherr Nenzing Crane co. In fact Bigge was one of a select few companies that contributed to the original design of the LR 1300 and continues to participate in the ongoing evolution and improvement for this machine and others in the Liebherr line up. Bigge took delivery of their first two over ten years ago. Today Bigge operates over sixty LR 1300 SX cranes in their "Perfect Fleet".
The 22 new cranes are equipped with a wide range of newly developed assist systems, including the "Luffing jib Assembly Assistant" (AKA the "Boom Up-and-Down-Aid") that aides the operator when assembling or disassembling the luffing jib. This is done by warning devices and eventual control lockout if the crane approaches an unsafe tipping area in the load chart. This proprietary system also directs the opperators on what needs to be done to get back to a safe position in order to continue the assembly or disasembly.