Rhenus Logistics B.V. opted for an eco-efficient Konecranes Gottwald Model 6 mobile harbor crane for their operations at the Rhenus Deep Sea Terminal at the Maasvlakte in Rotterdam, The Netherlands.
"For this new order, we wanted a comparable crane as the previous one bought in 2017, but with even better energy efficiency, to correspond with the Rhenus Group's commitment to sustainability and our ambition in Rotterdam for further electrification" says Managing Director Peter van der Steen. "Our fourth Konecranes Gottwald crane is like the previous one, a Model 6 Mobile Harbor Crane in the G HMK 6507 variant. It gives us a second option for handling up to 125 tons of general and heavy project cargo as well as containers. In twin-lift with its sister crane we now can lift up to max 187,5 tons.
However, what sets it apart is that the new crane uses a 690V external power supply, which will lower operating costs, while reducing noise and exhaust emissions at the same time. As the first Model 6 crane is prepared for an external power supply, Rhenus will be able to connect it to the harbor mains as well, at a later stage."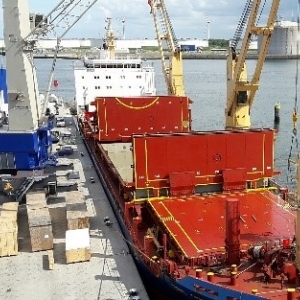 The commissioning of the first electric harbor mobile crane with external power supply in the Netherlands from Konecranes is planned for May and handover for June 2020.
With 2 terminals, 1700 meters of quay length and water depths between 10,50 and 16,50 meters, Rhenus Port Logistics in Rotterdam is one of the largest independent breakbulk & heavy lift port terminal operators in Europe.