At GE's Stafford engineering site, two transformers measuring 5m in height and 215 tonnes in weight required transport to Aberdeenshire, Scotland. The Collett team utilized a 250-tonne capacity Goldhofer girder bridge in modular form to transport each transformer separately. After arriving in Stafford, they configured the trailer and loaded the first cargo.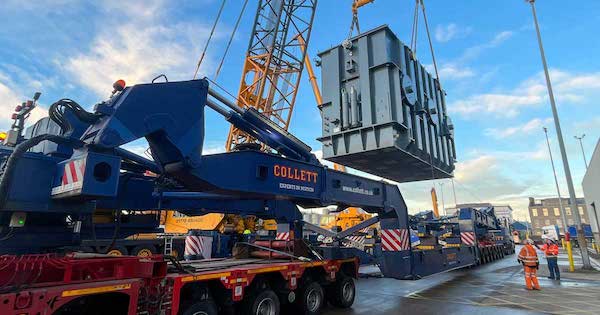 A transformer and girder bridge combination with an overall length of 65.8 meters, including a rigid length of 41.6 meters, required transport from Stafford to Ellesmere Port for onward shipment to the Port of Aberdeen. The Collett team conducted extensive surveying, route planning, and traffic management procedures to enable the safe transportation of the cargo, including modifications, street furniture removal, tree trimming, parking restrictions, and designated hold points. The 215-tonne transformer was unloaded from the girder bridge at Ellesmere Port using a Liebherr LG1550 mobile crane and shipped to the Port of Aberdeen on a coaster vessel. The girder bridge trailer was dismantled and transported in modular form to the Port of Aberdeen to greet the incoming vessel and transformer. The 70-mile journey from Stafford to Ellesmere Port was completed over two days, with 11 hours of travelling time, involving contraflow manoeuvres at several pinch points.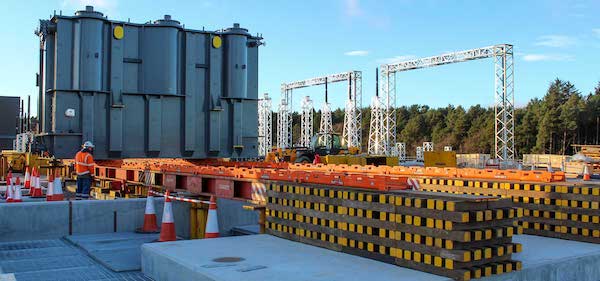 After three days, the 215-tonne transformer was discharged from the vessel by a 600-tonne strut crane and loaded onto the girder bridge trailer for the final 14-mile journey to the 400kV substation extension at Leylodge, Kintore in Scotland. The route had already been extensively surveyed and modified, including the relocation of a post box and the widening of access roads. Upon arrival, the Collett team undertook detailed ground bearing and pressure calculations, followed by jacking and skidding operations to position the cargo.
The Collett team utilized specialist hydraulic equipment to monitor the force and pressure during the jacking and skidding operation of the super grid transformer. The accurate monitoring included forces on the jacks, on each skid shoe, and maximum ground pressures. This ensured a safe and successful delivery of the first transformer to the site. The team will return to GE Stafford's facility in the coming weeks to deliver the second transformer using the same procedure. With the delivery and positioning of the second transformer, the Kintore substation extension project was completed.