Liebherr Container Cranes successfully completed the first ship to shore lift height increase using their new patented jacking system, Liebherr Transform. The operation was overseen by Liebherr engineers at Patrick Terminals in Brisbane Autostrad. 
The Patrick Terminals – Brisbane Autostrad, located on the eastern coast of Australia, is a highly advanced container terminal. Liebherr has two ship-to-shore container cranes at the terminal, including a new STS that is currently being commissioned and another that was supplied in 2015. The 2015 crane had a lift height of 37.5m, but with the increasing size of vessels visiting the port, an extension of the lift height was needed.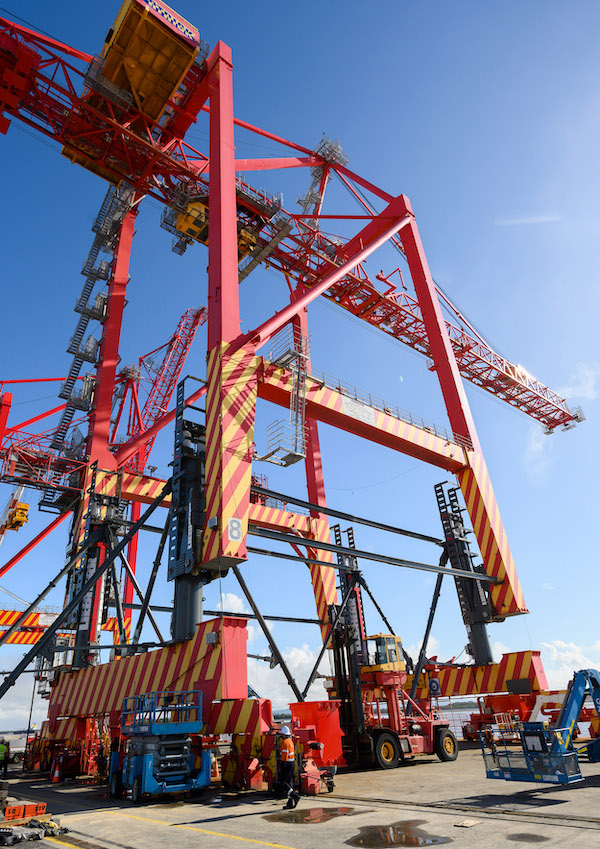 In 2022, a new patented jacking system for lift height extensions was used for the first time at the Brisbane terminal. Developed and manufactured by Liebherr Container Cranes in Ireland, the system's key feature is that it utilizes the crane's end carriage as a stable base for jacking the crane structure, eliminating the need for additional equipment. Additionally, as the system uses the crane structure as the foundation for jacking, the loadings are low and are carried through the existing crane.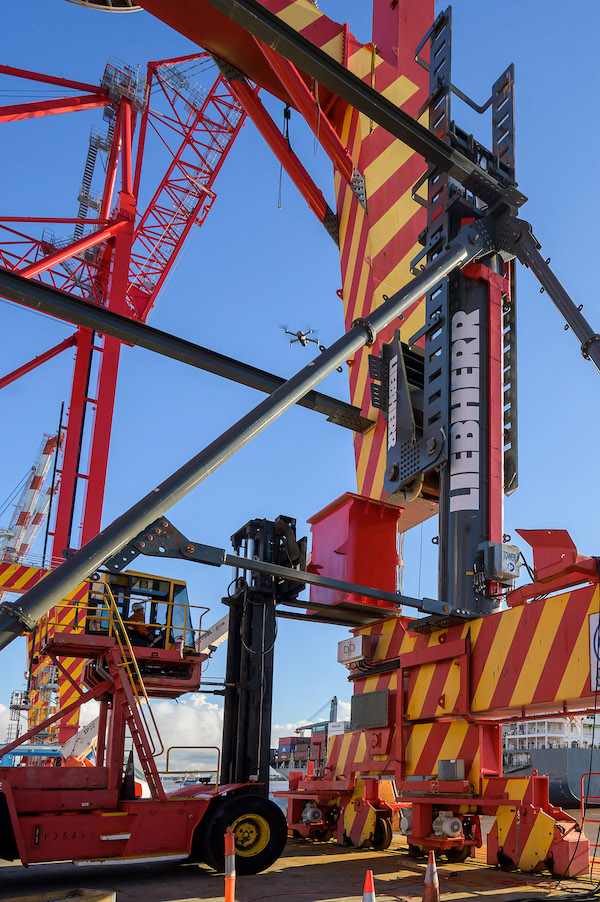 The preparation process for the lift height extension takes a couple of weeks, and the flexible system allows the crane to be jacked in place or moved away from the rails as needed. The actual crane raise and insertion of the extensions can be done in a few hours, making it suitable for terminals with high winds. The operation is very quick and the entire process can be finished in as little as four weeks per crane. Once the project is completed, the jacks are packaged in containers and shipped to their next destination.
Significant project at GCT New York LP in the Port of New York and New Jersey
GCT New York LP operates four Liebherr ship-to-shore container cranes that were supplied in 2004. These cranes have a lift height of 36.57m and an outreach of 50m. In partnership with Liebherr USA, GCT is planning to undertake a significant Liebherr Transform project to increase the lift height of the cranes by 8.6m, and the outreach of the cranes by 5m (two bays). After the completion of the project, the cranes will have the capability to handle the largest vessels that call the port of NY/NJ, which will allow GCT to better serve its customers.
Speaking about the project, Mr. Torsten Paas, Divisional Manager Liebherr USA commented: "We have worked closely with our customers in GCT New York to develop a tailor made solution that will meet their growth needs over the coming years. In line with the well-known life expectancy of Liebherr cranes, GCT can expect many more years of quality service from their existing machines. The project serves as a clear example of the real-world benefits of Liebherr Transform. GCT will benefit from extended operational ability of their cranes at a fraction of the cost of replacing their cranes."