Heavy transport specialists from Schares used a 4-axle SPMT combination in a side-by-side configuration to transport a 160-tonne railway bridge in Oldenburg, Lower Saxony. To begin with, the 22.5 metre-long bridge had to be raised from a height of 3 metres to 5 metres at the reloading point. For this purpose, a step lifter is mounted on the loading platform of the Cometto MSPE self-propelled vehicle. Then the combination with the 5-metre-wide cargo moved in sideways over the abutments. 
"With this vehicle's electronic steering, a structure can be positioned to the exact millimetre", said Cometto's sales manager Joachim Kolb about the technology used for such a high-precision task. "The driver does that effortlessly and with great accuracy via the remote control."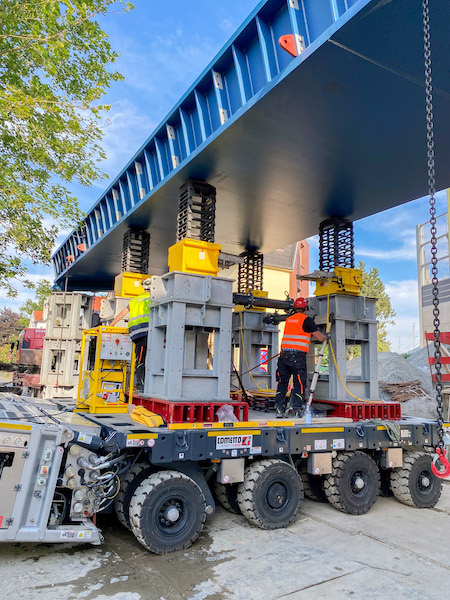 Schares also benefits from the fact that the operator can use the special steering programme to turn the axles individually, whereby the loading platform always remains in position and does not perform any relative movement. When the operator received the message "component in correct position" on the theodolite, the SPMT lowered itself and set the bridge down on its supports.
"We're doing the same thing again next week", said Christoph Schares. "Then the second decrepit railway bridge right next to it will be replaced."