Jumbo Offshore has executed the transport and installation of a torpedo pile mooring system, including mooring for flexible risers, umbilical for Libra Consortiums "Guanabara" FPSO. While this type of installation previously required the mobilisation of up to three anchor handling tugs, Jumbo carried out the entire contract using only its J-class offshore installation vessel Fairplayer, working in the Mero field of Brazil's Santos Basin. "Our first studies into a workable solution started around 2010," says Brian Boutkan, Jumbo Head of Sales and Business Development, Americas.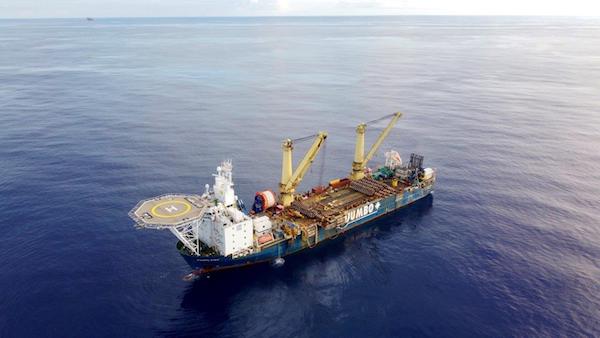 Jumbo carried out the project in Q1, Q2, Q3 and Q4 2021; its scope of work consisted of the installation of 24 120-tonne torpedo anchor piles and connecting chains and polyline sections, and the installation of 11 35-tonne anchors for the flexible risers and umbilical mooring lines. The work also included the preliminary survey of the seabed and the removal of obstacles, and post-lay survey.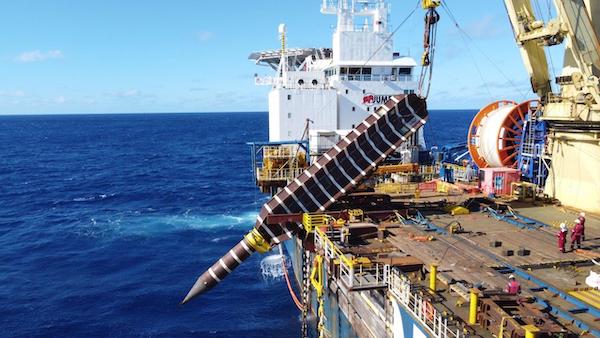 The torpedo mooring system is a Petrobras in-house developed method of mooring large floating structures such as FPSOs. The installation process involved lowering the torpedo pile to a set depth above the seabed. It is then released, free-falling at high speed through the water before penetrating the seabed. An ROV is then deployed to attach mooring chains and lines. Up until Jumbo's one-installation-vessel method, this procedure has usually been performed by two anchor handling vessels working in tandem, sometimes even with a third vessel performing the ROV monitoring and survey work.
Libra Consortium is operated by Petrobras (38.6%), in partnership with Shell Brasil (19.3%), TotalEnergies (19.3%), CNPC (9.65%) and CNOOC (9.65%) and Pré-Sal Petróleo SA (PPSA) (3.5%), representing the Government in the non-contracted area.