Unifeeder operated ship 'ElbBlue' was fuelled with liquefied SNG for a trial voyage in a major boost for the shipping industry's efforts to reduce its carbon emissions.The liquefied SNG, produced at Kiwi's Power-to-Gas facility in Werlte, Germany is a synthetic form of LNG that is carbon-neutral and generated from 100% renewable energy.
The trial comes as Unifeeder, owned by DP World, has launched its Actual Emission Tracker, a tool that allows for users to calculate greenhouse gas emissions at the specific TEU level. The Actual Emission Tracker gives companies further insight into the carbon impact of their activity, assisting with the measurement tools required to track and reduce carbon emissions. With a blend of 20 tons SNG and 20 tons conventional LNG, the 'ElbBlue' is expected to save approximately 56 tons of carbon output on its coming voyage to St. Petersburg, as opposed to operating on 100% LNG.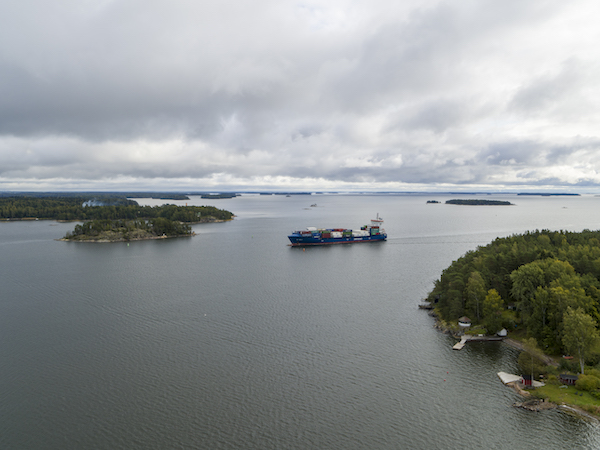 In 2017, the 'ElbBlue' – then named 'Wes Amelie' – was retrofitted as dual-fuel engine made by MAN Energy Solutions to be able to operate on LNG. MAN Energy Solutions reports that the retrofitted engine reduces SOx emissions by >99%, NOx by approximately 90%, and CO2 by up to 20% basis conventional LNG.
To mark the significance of the trial, an event was held in the port of Brunsbüttel, near Hamburg, Germany. Prominent guests expected to attend included Mr. Jan Philipp Albrecht, Minister for Energy Transition, Agriculture, Environment, Nature and Digitalization of the state of Schleswig-Holstein, Mr. Norbert Brackmann, MdB, Maritime Coordinator of the Federal Government and Dr. Uwe Lauber, CEO MAN Energy Solutions.
Jesper Kristensen, CEO Unifeeder and COO DP World Marine Services, said:"The launch of Unifeeder's SNG trial in conjunction with our project partners is a thrilling and timelydevelopment for our business as our industry continues to seek ways to reduce carbon output to meet customer, business and environmental policy demands.A successful trial voyage will complement our environmental initiatives across Europe, such as our investment in more efficient rail and barge inland services, as well as our ongoing sustainability ambitions at our terminals across Europe. And with the launch of Actual Emission Tracker by Unifeeder, we are seeking to provide our customers with the tools and options that help them to measure output and make lower carbon supply chain choices."