The German-based company Neeb has taken a delivery of three new Grove all-terrain cranes during a handover at the Manitowoc factory in Wilhelmshaven. The family business from Wuppertal chose a GMK3060L, GMK4100L-1 and GMK6300L-1 to expand its company fleet.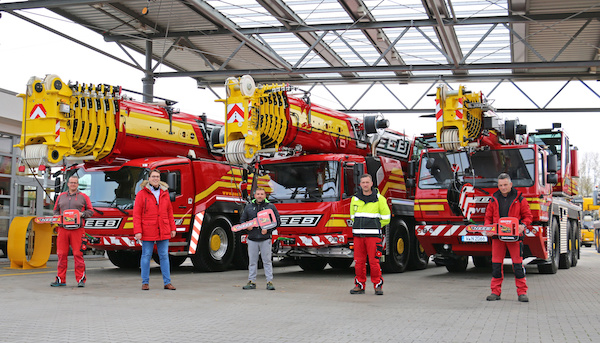 The three-axle GMK3060L features a 48 m boom and strong taxi load charts. When the boom is fully extended, it can lift 6.6 t. And at 8.67 m, the carrier is almost as compact as that of a two-axle crane. 
The GMK4100L-1 is the second new Grove all-terrain crane in the company's fleet. With its 100 t load capacity and 60 m main boom, the four-axle machine can accommodate up to 6.7 t of counterweight in taxi configuration. The remaining counterweight, including supporting pads and accessories, can be transported on one standard semi-trailer. From Wilhelmshaven, the GMK4100L-1 went straight to a construction site in Wuppertal, where the crane, equipped with 26.2 t of counterweight, got to work on a very confined jobsite underneath a highway bridge.
"The GMK4100L-1 has an impressive long, strong boom that can be used for a wide variety of tasks, and as such is the most compact taxi crane. The crane can even travel within widths of 2.55 m with 19.9 t of counterweight, which is extremely important when completing jobs in industrial plants," said the owner of the Grove trio Armin Neeb. 
The GMK6300L-1 completes the trio of new Grove all-terrain cranes for Neeb. With an 80 m main boom and an optional boom extension of up to 37 m, the six-axle crane can reach a maximum height of 120 m while still lifting 2.1 t. The GMK6300L-1 also boasts a load capacity of 300 t and can lift up to 14 t within a working radius of 14–28 m at full boom length. 
"Crane rental companies often face challenges when moving cranes. Bridges increasingly have load restrictions in Germany, for example, so the total weight of the mobile crane plays a decisive role when planning the journey to the site. The GMK6300L-1 from Neeb has a boom removal kit in order to drive more flexibly without the boom and with less overall weight. Disassembly and assembly of the boom is quick and easy to perform, and without the main boom the crane can travel on the road with a total gross vehicle weight of less than 51 t," commented Manitowoc. 
After the handover in Wilhelmshaven, the GMK6300L-1 headed to a lime works, where Neeb operator Ingo Klees used it to dismantle a tower crane. On the way there, the crane made a short stop at a wind firm to dismantle a crawler crane.