East-West Intermodal Logistics Ltd. has 125 hectares of land at its disposal in Fényeslitke, Hungary, near the Ukrainian and Slovakian border. With the aim to develop this site into the most modern and largest hub on the Silk Road, the company has chosen Kuenz to supply the yard lifting equipment. Three Kuenz Intermodal Cranes and One Freerider RTG will handle up to 1 million TEU per year. The terminal and the cranes will mainly be used for the handling of wide gauge to narrow gauge rail cars. Two of the RMGs will be designed as gantry cranes with a single-sided usable cantilever with a rail gauge of 21m and a cantilever length of 11,5m. The third, larger crane, will be designed with usable cantilevers on both sides; rail gauge is 40,15m and cantilever length on each side is 10m. A rubber-tired Kuenz FREERIDER will be delivered for the storage area.
Thanks to the Kuenz RTG's aerodynamic design the fully loaded containers can move at very high speeds in all travel directions, as well as in the gantry direction. The specially developed hoisting system is equipped with an integrated micro motion system for more flexibility. The cranes will handle all types of containers as well as semi-trailers and swap bodies.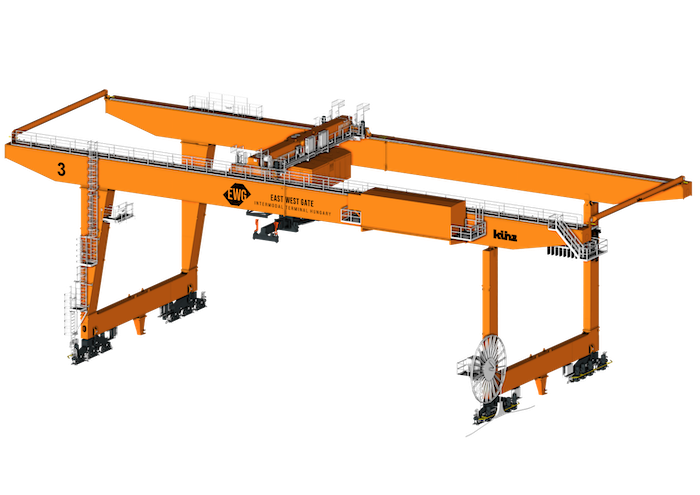 All four Kuenz cranes have a high level of automation and are operated via remote control stations – no cabins are mounted on the cranes. According to Kuenz, for the first time ever in intermodal terminals, data is to be transmitted to remote-controlled cranes via 5G technology. The new East West Gate in Fényeslitke will be the first intermodal combined transport terminal in the world to use its own 5G network for internal communication and operation of its cranes. The systems will be delivered before the end of this year. After a test phase, the terminal is scheduled to go into operation at the beginning of 2022.