The port of Grenaa, one of Denmark's largest commercial and industrial ports, has decided to upgrade its equipment and increase its performance with the purchase of a Liebherr LHM 550 mobile harbour crane, which is by far the most frequently sold model in the LHM portfolio with more than 250 units delivered. In order to strengthen its green profile with the locally emission-free drive, the LHM 550, which was previously in service in Finland for three years, is given an upgrade at Liebherr's maritime headquarters in Rostock, Germany. The LHM 550 will be fitted with an electric drive, which will significantly reduce future emissions when handling goods. 
With its 54 metres long boom and a maximum lifting capacity of 144 tonnes, the LHM 550 covers a wide range of handling options. In addition to the hydrostatic drive, the mobility of the LHM is an advantage for the customer. All wheel sets are individually steerable and have load balancing, whereby the ground pressure for each wheel does not exceed six tonnes. Furthermore, the 360° mobility ensures highest maneuverability.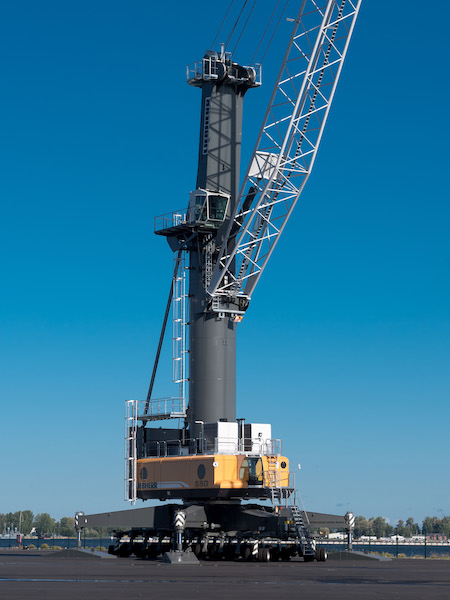 The port of Grenaa has a history of more than 200 years. It has grown from a fishing and ferry port. Over the years the port has broadened its work to bulk activities as well as project and stacking activities. The construction of the Anholt offshore wind farm in 2013 gave the port of Grenaa national and international recognition as a thoroughly proficient wind turbine port. This makes it one of Denmark's leading industrial ports for wind turbine projects.